CAPE TOWN, South Africa — As I sit in traffic during Cape Town's busy rush hour, it's difficult to imagine that running beneath this city of approximately 3.75 million are hundreds of kilometers of underground brick tunnels, tunnels that transport millions of liters of fresh spring water from Table Mountain directly out into the sea. The mountains that overlook this beautiful city were once its lifeblood, supplying the entire population with water.
I flick through the latest edition of the newspaper and come across another headline about the impact of the drought currently gripping South Africa. The last few months have been a particularly difficult time for the country. Annual total rainfall between January 2015 and December 2015 fell to its lowest level in 112 years, leading to widespread crop failures. As a result, South Africa's water supplies are under pressure.
The country's dams were just 55 percent full in January, leading authorities to curb water supplies to residents in several cities. In Durban, emergency steps were taken to deliver water to the poorest, while residents in the coastal city of Cape Town had to cut their water consumption by 20 percent from 10 percent.
We drive past the deprived Khayelitsha township of Cape Town and I spot a group of children walking to collect water from a distant water pump. It's a stark reminder that even before this drought, demand for water across the whole of South Africa has been steadily increasing. Despite being one of the most industrialized countries in Africa, 3.6 million people here still lack access to "improved" water and nearly 18 million don't have access to "improved" sanitation.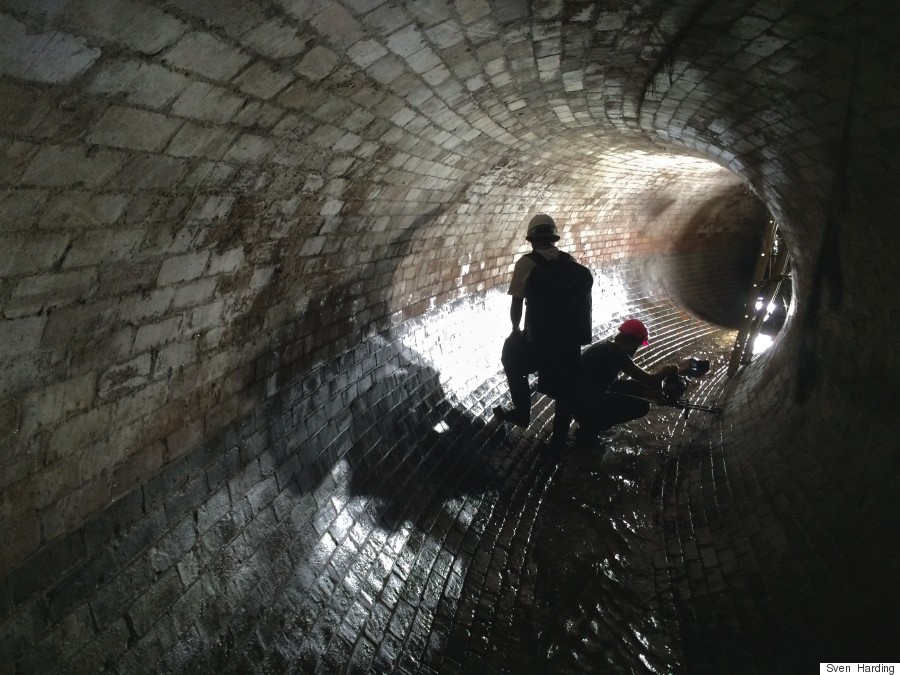 Harding and his film crew in one of the many Cape Town tunnels, built in the 1800s, through which millions of liters of potable Table Mountain spring water run to waste each day. (Sven Harding).
Cape Town is no exception. Despite its proximity to Table Mountain, a historic source of water, the city is severely water-stressed. Experts predict in the next three years there will be a shortage of water as demand outweighs supply.
As I watch the children wait patiently in line to collect their water, it seems impossible to comprehend that there was once an abundance of fresh water in this city. Go back 2,000 years and Cape Town was actually first named "Camissa," meaning "Place of Sweet Waters," by the indigenous Khoi people, because of its natural and clean streams stemming from the mountainside. It once had four rivers and 36 springs running through it, and was colonized by the Dutch in 1652 because of its plethora of fresh water.
But as the city grew, these water systems became polluted and were diverted underground via a storm water system. Today, this water rushes away hidden and unused into drains and sewers and out into the ocean.
"Here's a city which was once developed because of its natural resources and they have been discarded to the extent that we now have to bring water from the food growing region 65 kilometers away," Caron Von Zeil, the founder of the not-for profit Reclaim Camissa project, told me.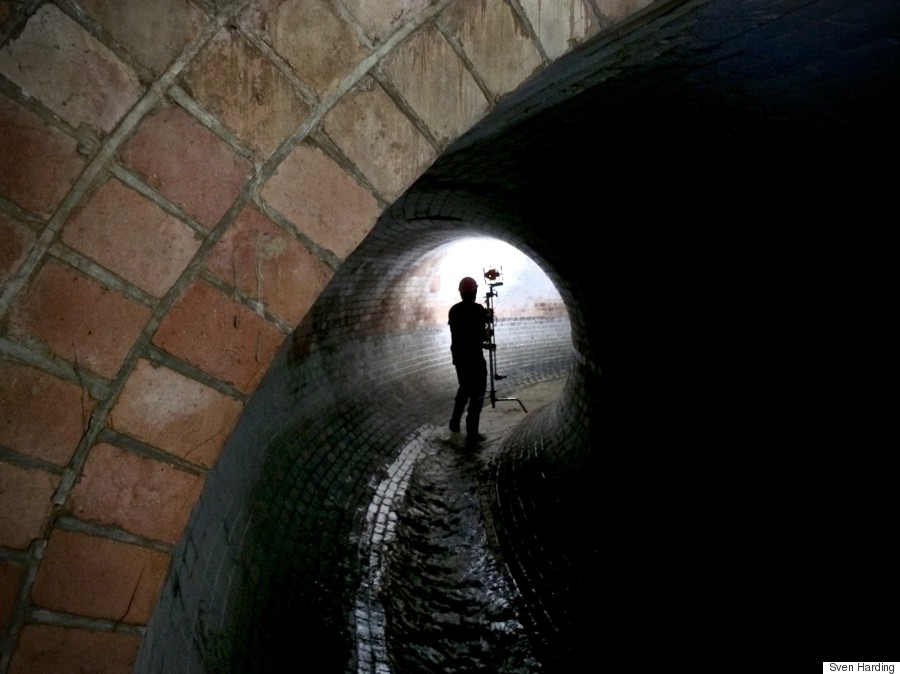 One of the many underground tunnels in Cape Town, South Africa. (Sven Harding).
I first met Caron at an event last year. She spoke with tremendous passion and depth about this wonderful resource which is the foundation of modern-day South Africa, yet nowadays this water is being funnelled away in tunnels under the city like sewage water. Caron is now fighting to reclaim these forgotten underground waterways.
"Water is required in every part of life, for that reason it's important that this water be reclaimed as far as possible and it is possible," she added.
Her views are supported by international development charity WaterAid, which works to bring water and sanitation to some of the world's poorest communities.
"The global water crisis is one of the greatest challenges facing us today," Chilufya Chileshe, WaterAid's regional policy and advocacy manager, told me. "As the global urban population rapidly expands, we're seeing that growth in developing cities is typically unplanned and water, sanitation and hygiene services are not keeping up."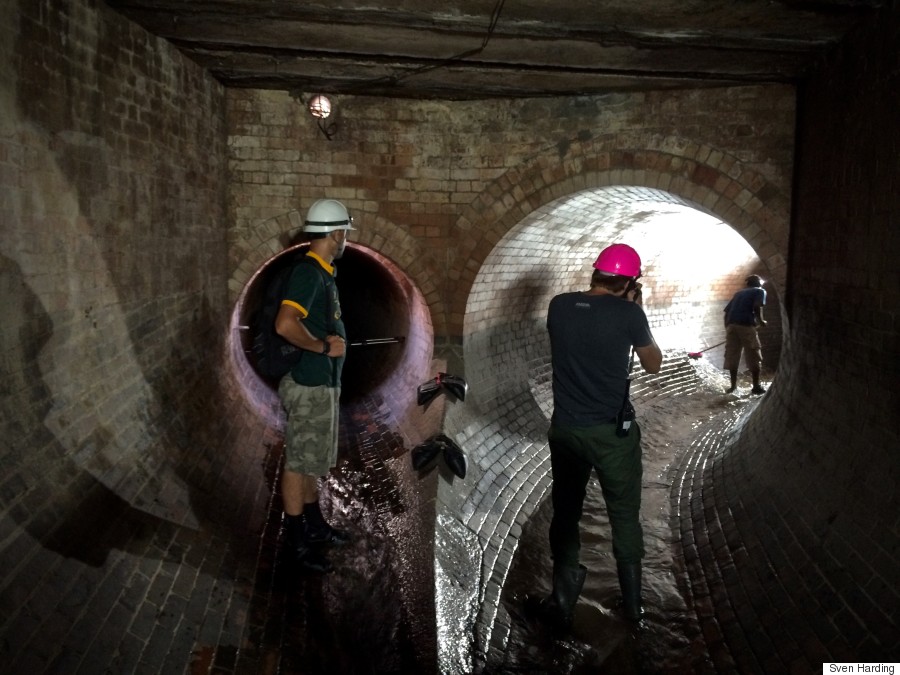 Harding and his film crew in an underground tunnel in Cape Town. (Sven Harding).
"In addition, most of our governments in southern Africa have yet to proactively declare the need for close attention to the impacts of the climate crisis on communities," she added. "Urgent attention has to be paid to help these communities adapt to the coming changes and help build resilience."
According to Caron's research, by 2019 there will be a shortage of water in Cape Town. For the past 11 years she's been lobbying local government officials to try to reclaim these waterways, but despite several officials showing interest, there's still no change.
"This water belongs to each and every one of us," Caron said. "It's important that we reconnect with this resource so that we can survive in the future not only as a city, but as a community."
Caron's passion for the cause inspired Sven to make a short documentary on the issue as part of a global film competition organized by WaterAid in partnership with WorldView. "Place of Sweet Waters" is available to view here and below.
Source: Why Cape Town's Forgotten Tunnels Could Provide the Answer to the City's Current Drought